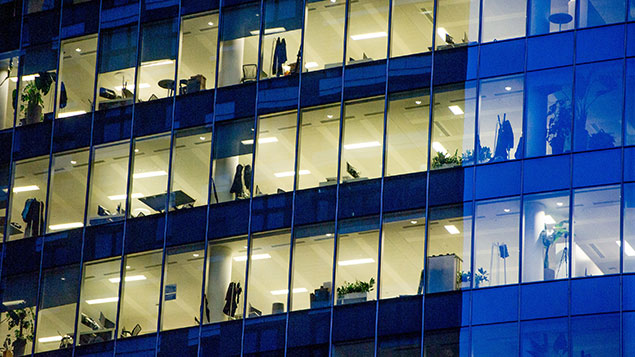 Employers won't necessarily want to return to expensive office buildings when workers are productive at home
Om1/Zuma Press/PA Images
A recent McKinsey report suggests that there's an overlap between those most vulnerable to losing their jobs to automation and those who will be impacted the most by the coronavirus. But does this mean the future of work is here sooner than expected, asks Cath Everett?
There is a significant overlap between workers who are vulnerable to losing their jobs in the forthcoming global recession and those who are likely to do so in future due to artificial intelligence (AI) and automation, according to report from McKinsey & Company.
As a result, claims the study entitled 'Covid-19 and jobs: Monitoring the US impact on people and places', preparing for the 'future of work' has gone from a "distant hypothetical to a very immediate priority".
A second, later article that assesses the effects of the crisis specifically on the UK, revealing what the reality behind this statement could actually look like in workforce terms.
McKinsey's expectation that UK GDP will fall by 9% in 2020 means that about 7.6 million people are under threat of being laid off, remaining furloughed or having their hours and pay cut.
But, the study warns, these risks are highly skewed towards workers with the lowest incomes. In fact, nearly 50% of all at-risk jobs are in occupations earning less than £10 per hour, many of which are found in hard-hit sectors such as hospitality, retail and construction.
Moreover, to hammer the point home, the report indicates that in the 20 areas of the UK with the lowest incomes, which include Blackpool, Stoke-on-Trent and Torbay, between 23% and 29% of posts are under threat. In the 20 most affluent, the proportion drops to just 15 to 25%.
Soberingly, the report also points out: "Looking beyond Covid-19, our research on the future of work, for women and for different skills and talent categories, suggests that these patterns may become even more divergent in the future."
But despite the significant number of positions currently at risk, Alexandra Levit, a consultant and author of 'Humanity Works', is still not entirely convinced that the so-called 'future of work' is taking place right now.
Who will be affected?
On the one hand, she agrees that people who are lower down the socio-economic scale are more likely to lose their jobs during the current crisis "as they don't necessarily have a lot of options – and the same people will be undoubtedly be affected when it comes to automation".
But on the other, she points to widespread predictions that AI software and automation will take a heavy toll on white-collar jobs too, particularly entry-level ones. "So while there's some overlap, it won't be exactly the same populations that are affected," Levit says.
Steve Leach, group sector managing director for recruitment consultancy Alexander Mann Solutions, also believes the McKinsey analogy has limitations.
"I agree with McKinsey's contention up to a point," he says. "But we're seeing businesses collapse across a range of industries every day, which means people are losing their jobs at all levels – and that's not linked to technological advancement."
What Levit believes the crisis has ended up doing though is to fast-track existing trends. "Covid-19 has escalated the situation," she says.
"While things aren't necessarily happening in a different way than expected, certain aspects are accelerating, such as a move to distributed workforces, the rise of contract workers and the creation of swarm teams."
The single most significant change, Levit believes, will be in a permanent shift to more distributed ways of working.
This means that those employees who can will be less office-based and instead work whenever, wherever and however they want. But while some people love the flexibility offered by this approach, others find it hard to manage their time and miss the interaction with their colleagues.
New ways of working
With this scenario in mind, Thai Union's canned fish brand John West is taking an incremental approach in a bid to ensure its transition to new ways of working is sustainable.
Certain aspects are accelerating, such as a move to distributed workforces, the rise of contract workers and the creation of swarm teams." – Alexandra Levit, author of Humanity Works
In the initial lockdown phase there was a "heavy focus" on prioritising and supporting employees' mental health and wellbeing, according to Linda Mountford, Thai Union's Northern Europe commercial HR director.
In the medium-term, the aim is to ensure a phased, "safe transition of the workforce back into the office", which will include the deployment of a "clear training plan and wellbeing support system", she says.
Longer-term though, it will be about taking a "more blended approach to home and office working, using technology to reduce both regional and international travel".
But this kind of policy will inevitably have an impact on the amount and size of office space employers require to house their workforces. Indeed, as Barclays boss Jes Staley pointed out at the end of April, large, expensive sites "may be a thing of the past", a point of view that has led the bank to rethink its long-term "location strategy".
"Many companies have been genuinely surprised by how productive people are when working from home or that jobs can be done effectively that way," Levit explains.
"So unless there's a business reason to be there, they won't want to go back to having the huge overhead expenses of office buildings to the extent they did."
Shifts and satellites
Instead, she expects to see smaller, satellite offices and local co-working spaces, such as those offered by WeWork, to proliferate. This scenario will, in turn, also lead to a progressive migration out of large cities, such as London, as many staff will no longer need to live there for work purposes.
Another likely outcome of these shifts will be an increase in the number of contingent workers.
As with the last recession in 2008, which was a major factor in kick-starting the gig economy, the forthcoming downturn is likely to push people into finding new income streams after losing their permanent jobs.
Moreover, says Leach, while the ascendancy of the gig approach has been predicted for years, it so far "hasn't really happened to the extent anticipated as there's always been an intrinsic mistrust of someone working on a project in Starbucks and then going straight on to do something for someone else".
But because remote working has now become the norm for many, employers have been "almost catapulted into a situation where they have to trust people, so there's been a shift in management philosophies to more of an output-based approach", he explains.
This means the embrace of "a broader portfolio of engagement mechanisms" seems more likely in future, which will in turn lead to the creation of "more variable workforces in a plethora of functions".
"It's about working out what skills are required for particular tasks and finding ways to satisfy demand by looking at things in a broader sense than has traditionally been the case." – Steve Leach, Alexander Mann Solutions
The ability of employers to make their costs less fixed and more variable is also likely to appeal during a recession, Leach adds.
Adjusting to new realities
One possible manifestation of the idea of variable workforces though, says Levit, is that of "swarm teams". Such teams, which were born out of the agile methodology often used by technology companies, tend to comprise a mix of permanent, full-time, part-time and contingent workers, and are created and disbanded at will to tackle particular projects.
According to Julie Chell, chief people officer at IT services provider Civica, this kind of flexibility will only become more important as the company adjusts to these "new realities".
"We've known for some time that future working needs to be more agile and flexible, but this has been accelerated by the pandemic," she says.
On the one hand, this demand for flexibility could lead to some jobs being redesigned. On the other, it will also likely result in HR professionals needing to take a "skills-count rather than headcount" approach to talent management, Leach believes.
"It's about working out what skills are required for particular tasks and finding ways to satisfy demand by looking at things in a broader sense than has traditionally been the case," he explains.
"So that means not just hiring someone new, but also looking internally at your own skills base, bringing in gig workers, buying in skills from third parties, and also automating where necessary."
Skills preparation
Such automation will indeed be necessary in some instances if employers are to cut sufficient costs in order to survive.
But implementing this kind of technology will also require the same investment in developing digital and soft skills among the workforce that has been discussed in an AI context for some time – something that perhaps McKinsey implies when it talks about "preparing for the 'future of work'".
Nonetheless, although Levit believes the ubiquitous adoption of AI will be a "slow build" that takes another 10 to 15 years, she also considers that the Covid-19 crisis could result in its deployment taking a more strategic tack than she had once feared.
"A lot of companies seemed to be automating and eliminating people just because they could. But with Covid-19, there's been a renewed sense of 'we need our people and we have to take care of them' – and HR has a key role to play here in making the case for putting people first," she concludes.
Change management opportunities on Personnel Today

Browse more Change management jobs