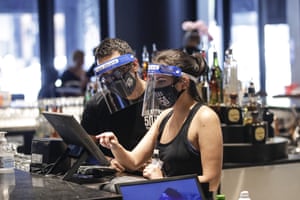 Good morning, and welcome to our rolling coverage of the world economy, the financial markets, the eurozone and business.
There are two schools of thought around today. One holds that the latest US unemployment report will give a crucial insight into the state of America's economic recovery.
After all, June's Non-Farm Payroll is expected to show record-breaking job creation – perhaps as many as three million, pulling the jobless rate down from 13.3% to 12.3%.
That would show that firms are getting back to work, heralding a rapid recovery from the Covid-19 recession.
As Stephen Innes of AxiCorp puts it:



I do not think we can overemphasize the importance of Thursday's NFP bridging the disconnect between improving cyclical data (i.e., PMIs) and a lackluster medium-to-long-term economic prognosis as persistently negative yields would lead one to believe.

A better-than-expected outcome could go some way to settling the near-term debate that the US labor market will heal relatively quickly and justify new highs in US equities.
But there's another view — that the worrying spike in coronavirus cases across America in recent days means June's NFP could already be dated. Overnight, 50,000 new cases were reported on Wednesday, a new record high.
More than half of new U.S. cases each day are in Arizona, California, Florida and Texas, forcing those states to shutter some non-essential businesses again, undermining the economic recovery in a bid to safe lives.
California governor Gavin Newsom ordered bars to close and banned indoor dining in many parts of the state, saying:



The bottom line is the spread of this virus continues at a rate that is particularly concerning,"
Mohamed El-Erian, chief economic advisor at Allianz, fears some parts of the US economy are going into reverse:
Either way, June's Non-Farm Payroll will probably be the biggest story in the markets today. It normally comes on a Friday, but has been brought forwards because Friday is a US holiday (for the 4th July celebrations).
Potentially confusingly, we also get the latest weekly US unemployment figures today – they're expected to show that another 1.3m people signed on for jobless support last week.
The agenda
8am BST: Spanish unemployment report for June
9am BST: Italian unemployment report for May
1.30pm BST: US Non-Farm Payroll for June
1.30pm BST: US initial jobless claims