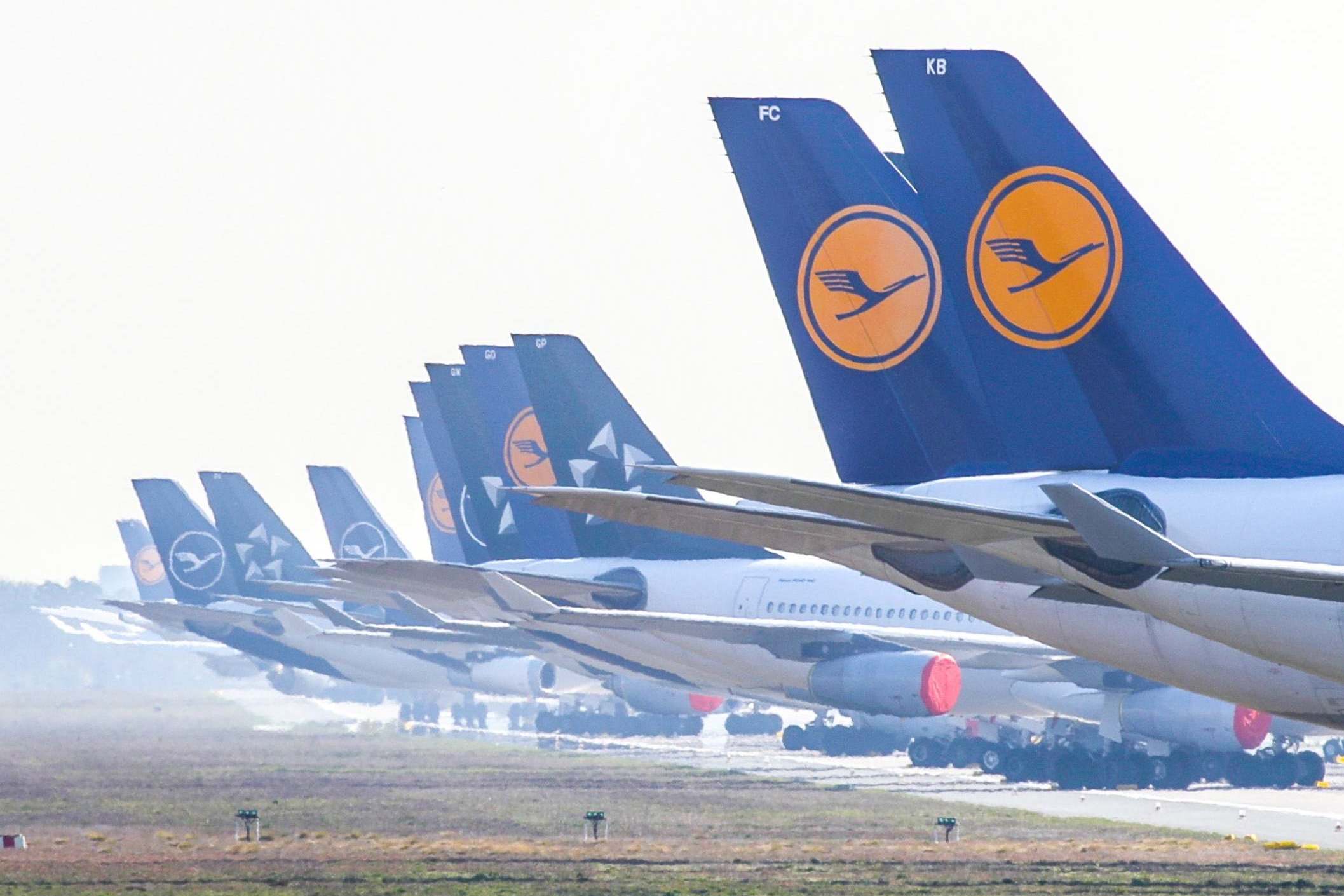 Shares in travel companies surged on Tuesday morning after German airline Lufthansa secured a €9bn (£8bn) bailout and countries across Europe eased lockdown conditions, prompting renewed optimism that tourists will be able to jet off on holidays before the summer is over.
British Airways owner International Consolidated Airlines Group's shares shot up almost 20 per cent in early trading, while easyJet rose 18 per cent and Ryanair gained 9 per cent.
The world's largest cruise operator, Carnival, enjoyed a 12-per-cent share price gain and travel group TUI surged 33 per cent.
Germany's flag carrier Lufthansa sealed a rescue package with the German government on Monday evening.
Under the plan, which still needs to be approved by Lufthansa's shareholders and the EU, Germany will take a 20 per cent equity stake in the company.
Germany's state-owned development bank KfW will loan the airline €3bn. An economic stabilisation fund set up to help Germany through the coronavirus pandemic will invest a further €6bn in return for Lufthansa shares.
Lufthansa, Europe's second largest airline group, has grounded 700 of its fleet of about 760 aircraft but is planning to quickly increase its number of flights from next month.
On Sunday, the French and Dutch governments agreed €11bn of loans and guarantees to support Air France-KLM, while in the UK the Treasury confirmed this week that it was considering its own bailout plan for "strategically important" firms.
Jaguar Land Rover and Tata Steel are among companies to have approached the government asking for support.
Chancellor Rishi Sunak had previously rebuffed an approach by airlines, including Virgin Atlantic, for direct financial aid.
Virgin Atlantic, which is controlled by Sir Richard Branson's Virgin Group, said in March that the aviation industry needed €7.5bn in emergency support.
But Mr Sunak told aviation bosses to seek other forms of funding and that the government would only step in as a last resort.
Sir Richard even offered to sweeten the deal by putting his private island, Necker, up as collateral.
News that the government may be considering a cash injection for some large companies, including airlines, has given a boost to a sector hit hard by the pandemic.
However, despite Tuesday's gains share prices for major airline groups remain well below their levels before the coronavirus crisis.
Travel and leisure companies were "leading the charge" in stock markets on Tuesday, said Neil Wilson, chief market analyst at Markets.com.
"Strength in this sector underscores confidence among investors that economies are reopening and consumers are keen to travel. There is a lot more hope that travel restrictions across Europe will be eased in time for the summer holidays."
A number of key tourist destinations in Europe have recently announced plans to begin opening up to foreign travel as they seek to rescue summer seasons from the coronavirus shutdown.
Greece's prime minister, Kyriakos Mitsotakis, said last week that the country would welcome foreign visitors from 15 June, not July as had previously been planned.
Visitors from a limited number of countries will be able to travel into Athens from that date with flights direct to tourist destinations set to restart on 1 July.
Spain, which typically receives more than 80 million visitors a year, will open up to tourists from 1 July, the prime minister Pedro Sanchez said on Saturday.
"Spain needs tourism, and tourism needs safety in both origin and destination," Mr Sanchez said. "We will guarantee that tourists will not run any risks, nor will they bring any risk to our country."
Last week, Portugal's government signalled that its doors were open again to tourists, with health checks to be carried out at airports. Portugal has been less severely affected by coronavirus than neighbouring Spain.
Beachgoers will be able to use an app to inform them which spots are busy and which have more space.
By contrast, Priti Patel, the UK's home secretary, announced a 14-day period of quarantine for international arrivals into the UK from 8 June.
Retail shares also soared in London on Tuesday after the prime minister announced non-essential shops would open from 15 June after almost three months of lockdown. JDSports shares rose 11 per cent, Next 6 per cent and cinema operator Cineworld 22 per cent.
Shares in shopping centre owner Hammerson, which has been struggling as retailers withhold their rent, jumped 14 per cent.